A good electric stapler can make a world of difference in a busy office setting. If you want to help make your office more efficient and streamlined by using the latest and best in electric stapler technology, take a look at this brief guide to the best electric staplers. Each of these products are available from Stapler Warehouse today and can help you make the most of your time spent at work. You'll be able to effortlessly organize and staple multiple pages at one time in rapid succession with these products. To find the best electric stapler for your specific needs, take a look at key specifications listed below such as built-in staple storage, staple position guides and additional convenience features.

Best Electric Staplers of 2019
Rapid 5080e Heavy Duty Flat Clinch Electric Stapler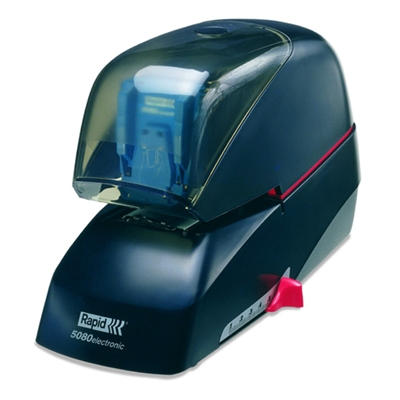 If you're in the market for a low maintenance option capable of neatly stapling up to 80 sheets at one time, the Rapid 5080 is one of the best electric staplers you can purchase. This electric stapler is ideal for offices as well as industrial settings, thanks to its easy-to-use design that requires very little maintenance over time and its quiet action. Switching out stapler cartridges simple an convenient since the Rapid 5080 Stapler cassette replacements come with built-in driver blade and forming blade replacements as well. You will also never have to worry about running out of staples thanks to the built-in sensor that features a warning light that indicates the number of loaded staples has fallen below 20. Guaranteed for 500,000 stapling operations, the Rapid 5080 Electronic Office Stapler can be fitted with additional handy accessories to make large stapling tasks even faster and more convenient.
Rapid 106E Heavy Duty Electric Saddle Stapler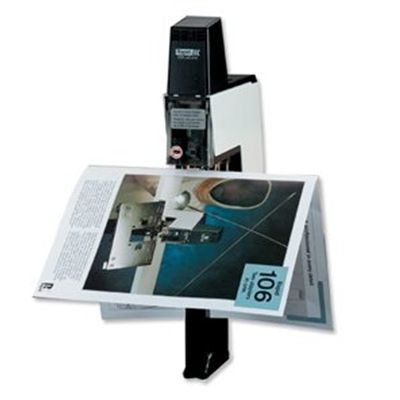 For quiet efficiency and convenient switches between different stapling operations, the Rapid 106E might just be the best electric stapler option we have to offer. Seamlessly switch between flat stapling operations, saddle stapling and loop stapling to quickly organize and fasten everything from sheets to booklets and brochures. This electronic stapler makes the ideal choice for printers and schools as well as office and industrial work spaces where multiple stapling operations are performed daily. The Rapid 106E comes with interchangeable heads that offer swift change between stapling operations so you don't waste time setting up different staplers for different jobs. This stapler can handle up to 50 sheets at once, and has an adjustable stapling force and depth that varies between 0 and 100mm. Simply put, the Rapid 106E is the best electric stapler option for those looking for two staplers in one convenient package.
Max EH-20F Electronic Office Stapler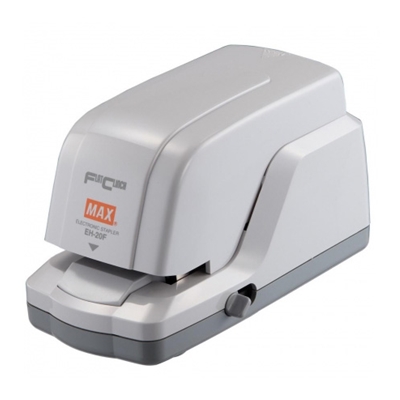 When time is of the essence, and you need documents organized and stapled quickly and quietly, there is no better option than the Max EH-20F Stapler. Ideally suited to provide neat and fast stapling at a continuous rate, this electronic stapler is best suited for use in office settings such as banks, travel agencies, and insurance companies. It is also one of the best electric staplers for use by hotels, hospitals and even airlines where rapid, continuous stapling can be a daily requirement. Users will enjoy the power of this electric stapler that allows it to staple 2000 times without jamming or requiring a new staple cartridge. Thanks to its auto shut-off capability, you'll never have to worry about wasting energy or staples while putting the Max EH-20F to work. This model is also able to staple up to 20 sheets of 20lb bond paper by using its flat-clinch mechanism. For rapid, professional quality stapling, the Max EH-20F is one of the best electric staplers offered at Stapler Warehouse.
Staplex S-700-1NHL Long Reach Automatic Electric Stapler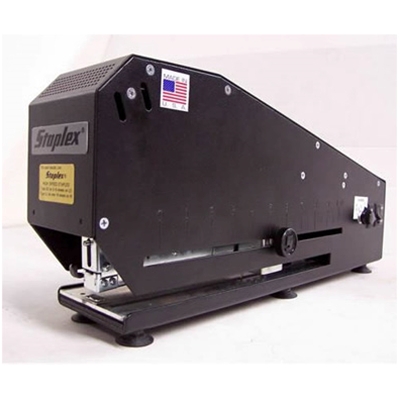 This model is ideal for stapling tasks where folding occurs after large sized pages are stapled together. Items like calendars, display cards and much more are perfectly suited for stapling in the Staplex S-700 which features an adjustable backstop that ensures perfectly aligned stapling every time. This model also features a foot switch that allows convenient operation of the adjustable backstop, and thanks to its automatic stapling capabilities users can simply insert pages without additional adjustments when they're ready to staple. The capacity of 40 sheets (20 lb sheets), along with S-700's ability to use multiple types of staples makes this option the best electric stapler for any large sheet stapling task.
Max EH-110F Electronic Flat Clinch Office Stapler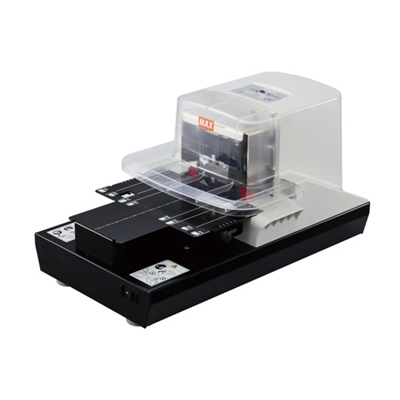 The last stapler included on this list might just be the best electric stapler the Stapler Warehouse has to offer for general heavy duty office use. With a capacity of up to 100 sheets, and the ability to easily switch between standard and flat clinch operations makes the Max EH-110F stapler, there is very little this electric stapler can handle. Users can take advantage of great features such as the ability to switch between manual and automatic stapling, as well as the adjustable stapling depth and convenient paper table which features guide lines that help you staple at the ideal spot every time. The Max EH-110F also features an indicator light that flashes when it is time to reload more staples, although with 4000 staples before refill you should get plenty of use out of a single staple cartridge. And as an added bonus, the Max EH-110F comes with a free No. 110FE staple refill, giving you 4000 free staples with your purchase!
There are plenty more quality electric staplers to choose from at Stapler Warehouse that are ideally suited for use in a number of different offices and industrial settings. If you would like to learn more about other staplers, or find out more about the best electric staplers of 2018 listed above, feel free to contact us directly today at 888-761-8462 or browse our website for additional details and customer reviews.