Sealing your packaging in a professional and uniform fashion is simple when you have the right tool. At Stapler Warehouse, we have plenty of great options to choose from when it comes to hand impulse sealers. Whether you're looking for a flat wire or round wire sealer, we have the right product available for a great price. Feel free to browse this selection of our featured hand impulse sealers, or check out our online product catalogue page to take a look at our entire selection.
Best Hand Impulse Sealers in 2019
AIE-100T Impulse Hand Sealer 4" – 2mm Seal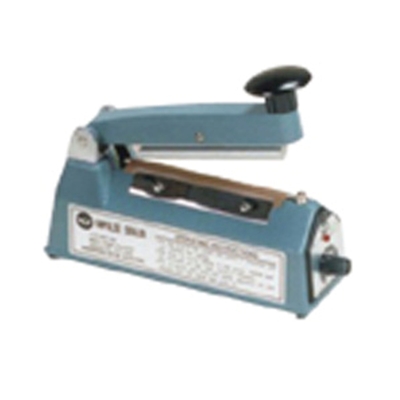 When you need superior sealing quality in a versatile and easy-to-use package, the AIE-100T is one of the best options Stapler Warehouse has to offer. Thanks to its excellent design, it is easy to switch between different applications to seal different types of poly materials. You can achieve professional quality seals for either airtight or watertight packages up to 6mm. Thanks to the guaranteed warranty from the industry leading manufacturers at AIE, you will always be able to expect top level dependability and durability from the AIE 100-T. As an added bonus, you can also save 10% on any replacement part kits with a purchase of this product from Stapler Warehouse.
W-2510HT 10" Double Impulse Sealer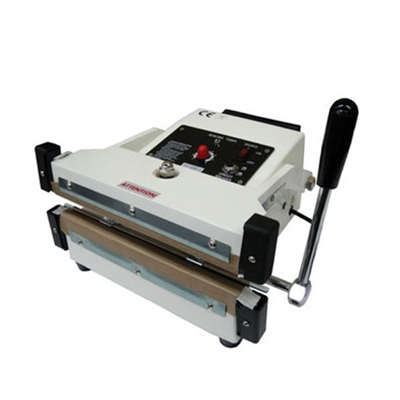 If you require a sealer that can handle more substantial and larger sized packages, the W-2510HT offers quick and reliable sealing in just seconds. This particular model is ideal for sealing coffee bags and larger packages, as well as plastic tubing. Virtually any plastic packaging that is less than 10" wide and 20mm thick can be easily sealed using this unit, and sealing times can be reduced thanks to the option for a single or double heating element. Included with your purchase is two additional heating elements, so you can easily switch to a new heater when the time comes for a replacement. For speedy sealing in seconds on a large number of high capacity packaging, the W-2510HT is one of the best options available on today's market.
AIE-305 Impulse Hand Sealer 12"- 5mm Seal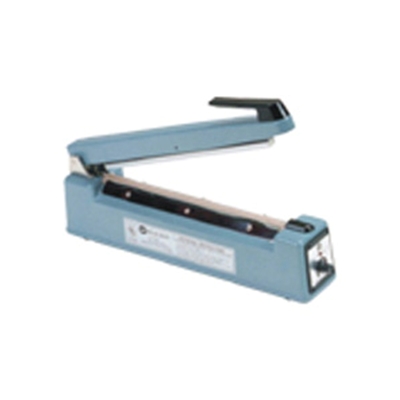 Sealing large packaging can be done quickly and safely thanks to the AIE-305. This versatile tool is ready to quickly seal virtually any heat sealable material, and thanks to its large size, you'll be able to handle practically any packaging task you encounter. Tested for durability and designed for industry leading performance, AIE ensures all of their products meet the highest industry standards, and they stand by their products with a guaranteed warranty.
KF-300H 12" Impulse Hand Heat Sealer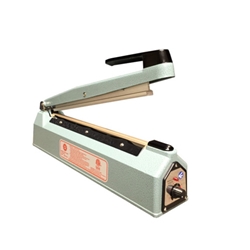 This model is one of the easiest to use thanks to multiple enhanced features. No wait time for heating elements to warm up means you can get right to work on your packing project. Thanks to features like a plug in timer, sliding cutter and round wire setting, this versatile sealer and cutter is prepared to take on practically any heat seal packing material in sizes up to 12" wide and 6mm thick. The KF-300H model is also ETL listed, meaning it has been tested for safety and quality in a Nationally Recognized Testing Lab.  In addition to these features, this product comes with additional replacement elements and 2 PTFE covers for added convenience.
FS-200 8" Economy Impulse Hand Sealer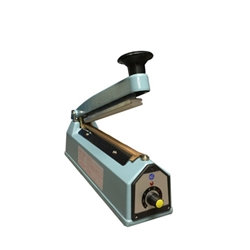 One of the most affordable hand impulse sealers available from Staple Warehouse is the FS-200. While this happens to be one of our cheaper options, it sacrifices very little in terms of quality, durability and versatility. Able to handle virtually any poly packaging, this 245W sealer requires no warm-up time, and comes with a built in timer for accurate sealing times. It also has a built in round wire option when you require sealing and cutting for your packages.
TEW TISH 200 Impulse Hand Sealer – 8", 2mm Seal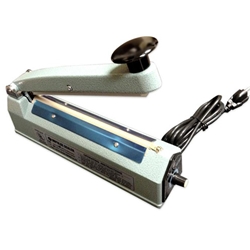 Keeping your package seals consistent and presentable is easy thanks to the TEW TISH 200 model which features an ergonomic design and easy-to-use plug in timer which give accurate seal results depending on the type of material you use. The drop bar allows for quick and effective sealing of practically all poly packaging materials including mylar, polyethylene, polyurethane, tivac, saran and much more. In addition to this tool, customers will receive 2 replacement elements and 2 Teflon covers with their purchase.
KF-400H 16" Impulse Hand Sealer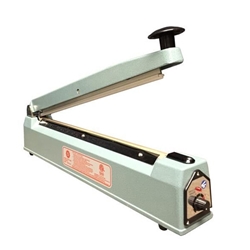 This large capacity sealer is among the best options when it comes to packaging large bags made from all types of poly packaging materials. In addition to these materials, this model is ideally used for shrink wrap applications thanks to it's round wire option that can seal and cut in one seamless motion. With it's 16" long seal and all metal construction, this model is designed to work efficiently with large packages. Like the KF-300H models, the KF-400H is ETL listed and certified by Nationally Recognized Testing Laboratories for safety and quality. The powerful 600Wcapacity ensures it will maintain consistent seals from the start of your task to the last package.
FS-500 20" Economy Impulse Hand Sealer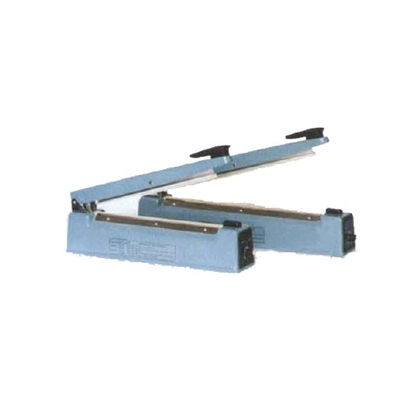 If you require some type of compatibility with other sealers, the FS-500 has exactly what you're looking for at a great price. This particular model is constructed with an all metal body, and it is fully compatible for use with TISH sealers ranging in lengths from 4 to 16 inches. This easy-to-use model features one of the simplest designs and operations. Users simply set the timer as they desire for the material they are packaging and press the package between the heated elements. Packages get perfectly sealed in seconds!
AIE-500 Impulse Hand Sealer 20" 2mm Seal – 220 Volt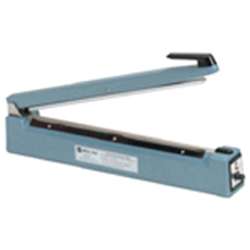 Easy-to-use and energy efficient, this 220 volt version of the quality AIE-500 sealer series offers industry leading performance and energy efficiency. In seconds you can have airtight or watertight seals on virtually any poly packaging, and the 220 volt design means the unit only draws power when it is actively sealing packages. This makes it ideal for users who require regular and frequent use of this machine, without having to worry about inconsistent heat and rapid degradation of the heating elements.
The products featured on this list are some of the highest quality and most popular impulse hand sealers we have to offer at Stapler Warehouse. For more details on upcoming promotions, sales and available discounts on these and other quality products, be sure to visit our online catalogue, or feel free to contact us directly via phone or email today.