Paper guillotine cutters are extremely useful tools to have at the office, in a classroom, or for use at home. Based on their fairly simplistic design, and the fact that paper guillotine cutters have been frequently used for decades, you may have the impression that there are few differences between one unit to the next. While most paper guillotine cutters are built to accomplish roughly the same paper cutting tasks, you may be surprised to learn that there are some vastly different models available on the market. The trouble now will be determining which type of paper guillotine cutter is best for your specific needs. To help you make the ideal choice, let's take a look at some of the best-reviewed options available from Stapler Warehouse.
Best-Reviewed Paper Guillotine Cutters in 2019
Dahle 567 – 21.5 Inch Premium Guillotine Paper Cutter
Premier Stakcut 715 – 15-inch Heavy Guillotine Paper Trimmer
Kobra 430-EM 17 inch Guillotine Paper Cutter
MBM Triumph 1071 Tabletop Guillotine Trimmer – 28.5 inch
Dahle 585 – 43 inch Premium LF Guillotine Cutter
Dahle 567 – 21.5 Inch Premium Guillotine Paper Cutter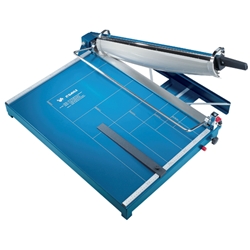 For years Dahle has produced some of the highest quality and most versatile paper guillotine cutters available. They are particularly known for their added safety features, which are abundantly present in any one of their premium models. Unguarded paper guillotine cutters can be extremely dangerous, which is why it is important to be on the lookout for models with upgraded safety features like the Dahle 567, especially for use in a classroom setting. The Dahle 567 features a safety guard that provides complete protection from the cutting blade. This protection is definitely necessary, as the Dahle 567 features a German made, a self-sharpening blade that delivers the perfect cut every time. Capable of trimming up to 35 sheets of paper with one cut, the Dahle 567 ranks among the highest performing paper guillotine cutters on today's market. In addition to paper, it can also cut swiftly through more substantial material such as mat board, and thanks to its automatic paper clamp, you'll never have to worry about paper fanning or misaligned cuts again!
Check the price for Dahle 567.
Premier Stakcut 715 – 15-inch Heavy Guillotine Paper Trimmer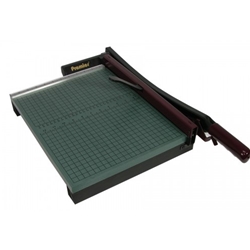 One of the best all around heavy-duty guillotine cutters happens to be the Premier Stakcut 715 model. While it may not feature as many bells and whistles as the Dahle 567 discussed above, Stakcut models like this example often leave little to be desired in terms of safety features and cutting capabilities. This hardened precision-angle steel blade can cut through up to 30 sheets of paper at one time. In addition to large stacks of paper, the Stakcut 715 can easily slice through mat board, cardboard, film, tissue and even textiles. The haevy duty blade comes with numerous safety features including a torsion spring that prevents the blade from dropping accidentally during use, while the automatic blade latch locks the blade after each cut. Along with the finger safety guard that runs on the entire length of the blade, this model keeps users safe at all times during use.
Check the price for Premier Stakcut 715 mode.
Kobra 430-EM 17 inch Guillotine Paper Cutter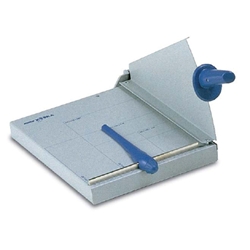 Kobra manufactures a number of quality entry-level models of paper guillotine cutters that perform well for a long period of time while remaining some of the most affordable options on the market. This 17-inch model is perfect for use in the classroom or home office thanks to its high-quality carbon hardened blades and numerous safety features. It also features the exclusive "Super Cut" system unique to Kobra 430-EM units which give blades an extended lifespan, meaning users will never have to worry about sharpening or replacing blades for many years. A major aspect of the "Super Cut" system is the 65-degree sharpening angle of the cutting blade that offers a smooth and consistently straight cut every time. Combined with its low upfront cost, the low maintenance of this model makes it extremely cost effective and ideal for your budget.
Check the price for Kobra 430-EM.
MBM Triumph 1071 Tabletop Guillotine Trimmer – 28.5 inch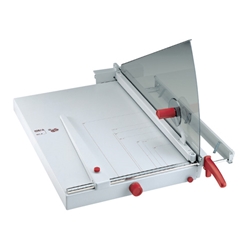 For users working in an art or design studio, Triumph trimmers are the gold standard when it comes to cutting accuracy and overall durability. While many paper guillotine cutters are built for frequent use, Triumph cutters are specially designed to meet the everyday needs of operators working with high capacities of materials. MBM Triumph 1071 Tabletop Guillotine Trimmer, in particular, is capable of cutting up to 40 sheets of paper at one time, and it features a fine adjustment scale that facilitates narrow-strip cutting. All Triumph trimmers come with a Solingen steep blade that is razor sharp and sets the highest standards for cutting accuracy and longevity. The blade can be resharpened when the need arises, but its high-quality steel makes resharpening a rare occurrence compared to other paper guillotine cutters. A transparent Lexan safety guard and automatic blade covers give users the safety they need without sacrificing precision. Lexan is a high-quality plexiglass that is designed to resist discolouration and remain permanently transparent. Triumph's use of high-quality materials such as Lexan and Soligen steel blades is one of the many reasons why these paper guillotine cutters are so prominent in art and design studios where frequent paper cutting occurs on a daily basis.
Check the price for MBM Triumph 1071.
Dahle 585 – 43 inch Premium LF Guillotine Cutter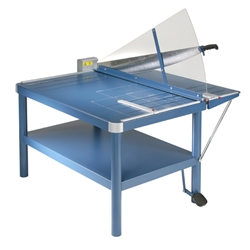 For larger sized jobs that standard paper guillotine cutters can't handle, Stapler Warehouse has still got your needs covered. The Dahle 585 Large Format cutter is one of our best offerings when it comes to commercial grade cutting. Innovative features like the acrylic fan guard and manual foot clamp make this a great option when you need to get a lot of precision cutting finished in a short period of time. Complete with its own permanently mounted stand, users can calibrate the model to a proper height and leverage for easier trimming. The German made Soligen steel blade maintains its edge after each use thanks to the brilliant automatic sharpening tool built into every model. Along with their superior cutting capabilities, every Dahle unit comes with standard safety features such as blade locks and guards as well as an acrylic fan guard that helps keep the operator's hands well away from the blade at all times. This 43 inch model is capable of cutting up to 30 sheets of paper at one time, making it ideal for all of your large format cutting needs.
Check the price for Dahle 585 Large Format cutter.
In addition to the paper guillotine cutters described above, Stapler Warehouse features a wide selection of cutters that can suit your particular needs. Feel free to contact us via our website to discuss any questions you may have, or take a look at our online catalogue to find a great paper guillotine cutter at a highly competitive price today.